5 Best WordPress GDPR Plugins to Create GDPR Compliant Site

Are you looking for the best WordPress GDPR plugins? Here are the powerful GDPR compliance WordPress plugins that really speed up the process. As well as give confidence that you are covered all your GDPR bases.
The European Union (EU) passed the General Data Protection Regulation (GDPR) privacy regulation. After 25th May 2018, any website serving on the EU region need to be GDPR compliant site. Thus, many website owners looking for the best ways to obey.
In this article, we'll share the best WordPress GDPR plugins for your WordPress website. You can find most of the plugins are entirely free, while others are freemium. Freemium plugins are free plugins with an upgrading option to gain access to premium features.
Note: Only installing a plugin, it does not make your website GDPR compliant. You need to configure it correctly because each site uses different cookies. Thus you need to configure as per your website cookies.
Top 5 Most Popular WordPress GDPR Plugins
Following our list of the best GDPR compliance WordPress plugins is for your site.
1. Cookie Notice (Free)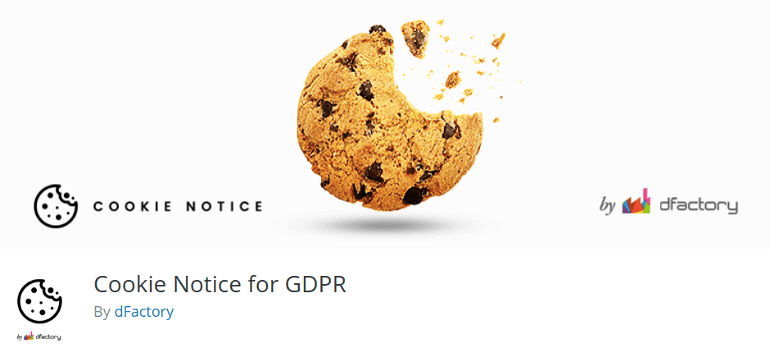 Cookie Notice for GDPR by dFactory is one of the most popular free plugins for WordPress. It allows you to create customizable cookie message. Hence, you can stylishly inform your users that your site uses cookies and to comply with the GDPR regulations.
Moreover, it allows for adding multiple expiry options. Also, it allows you to add cookies, and privacy policy page link (redirect link) on the cookies notice to give more information about your cookies and privacy policies. Furthermore, it allows users to revoke the user consent, refuse functional cookies of viewing your site.
Almost over one million active installed this plugin and higher user rating. Probably the best WordPress GDPR cookie plugin so far.
2. WP GDPR Compliance (Free)

WP GDPR Compliance plugin is a free and fast way to help your website GDPR ready. This plugin is compatible with the major WordPress plugins that support Contact Form 7, Gravity Forms, WooCommerce, or WordPress Comments. With the plugin installed, you can quickly add consent options, or you can navigate to the integration settings tab.
This plugin allows the features such as to request data archive, cookie popup consent, add a privacy policy link. Moreover, forget me feature they provide. With this feature, you can allow your users to delete their data from your website. Lastly, if any possible data breach, it will notify to the data user.
3. GDPR Cookie Compliance (Freemium)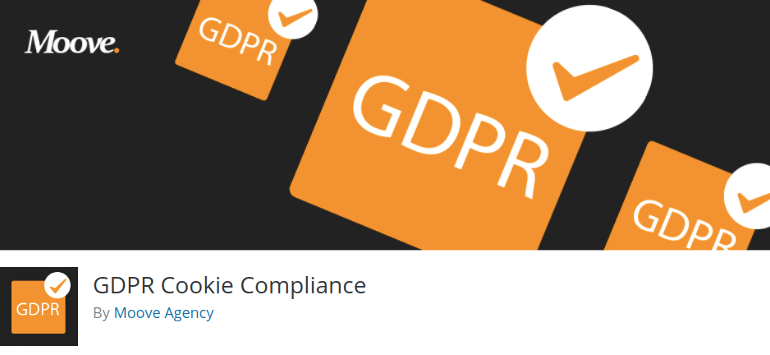 GDPR Cookie Compliance plugin by Moove Agency has many features that make this plugin best in GDPR plugins for WordPress. However, this plugin provides cookies information to users. Even more, it can control what cookies are stored and also the ability to revoke their consent.
It's a simple and beautiful user interface. However, it allows you to fully customizable control over logos, colors, and fonts. Also, you can set the position of the cookies banner at any position. In short, it allows us to change cookies banner appearance according to the layout of the site.
The premium version of this plugin comes us with the full-screen layout, export & import settings, analytics, geo-location features. If geo-location enabled, a cookie banner will be displayed only for EU users.
4. GDPR Cookie Consent (Freemium)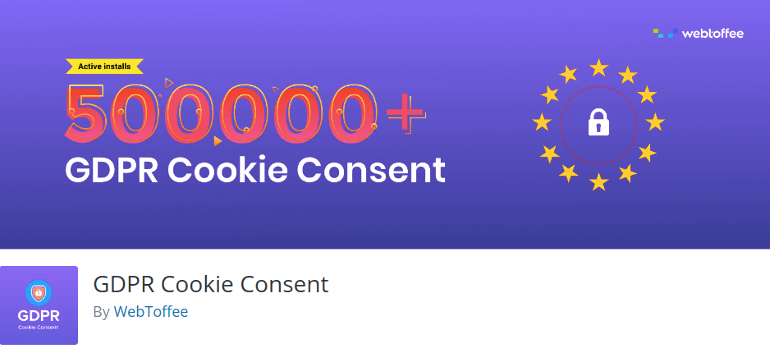 Another popular plugin GDPR Cookie Consent by WebToffee helps to comply with GDPR law for the usage of cookies. Over half a million users have installed on their websites. This plugin comes up with a few settings to make your website compliant.It allows you to customizable control over logos, colors, and fonts. You can switch on and off the cookies bar, and choose where to show cookies bar.
Furthermore, You can customize the cookies banner to match with the theme of the website. Also, it allows managing the list of cookies. The premium version of this plugin provides many features likes manage a list of cookies and cookie categories, import/export cookies and cookies related information, and many more.
5. WP DSGVO Tools (GDPR) (Freemium)

Lastly, WP DSGVO Tools (GDPR) WordPress plugin easily install, and dozens of useful features provide to make websites compliant. This plugin developed in cooperation with lawyers. As well as gives lots of information on how to make your website compliant.
This plugin provides legally compliant privacy texts & templates. Thus, the design of this cooking popup is elegant and clean. Moreover, cookie notice visitor can opt-in and opt-out. Also, provide customizable tracker scripts for Google Analytics and FB Pixel.
Along with the free feature, this plugin comes with premium features such as the style of a cookies Notice popup and integrate with Woocommerce, Mailchimp, bbPress, Gravity Forms plugins.
Free Cookie Checker Tool
Here is a website cookieserve.com to enter your website and find out what cookies are used.
Final Thoughts
We have seen above best 5 WordPress GDPR plugins that help you to serve your website on EU residents visitors. They provide multiple features and functionality to make your WordPress website GDPR ready. Moreover, they are trendy in this category and have a significant number of active installed. Check it out GDPR compliance for Marketers.
We hope you have found this article helpful. Let us know your questions or feedback if any through the comment section in below. You can subscribe to our newsletter and get notified when we publish new WordPress articles. Moreover, you can explore here other WordPress related articles.
If you like our article, please consider buying a coffee for us.
Thanks for your support!



Buy me a coffee!
---
---