Top 8 Trends in Cloud Computing To Watch Upcoming Years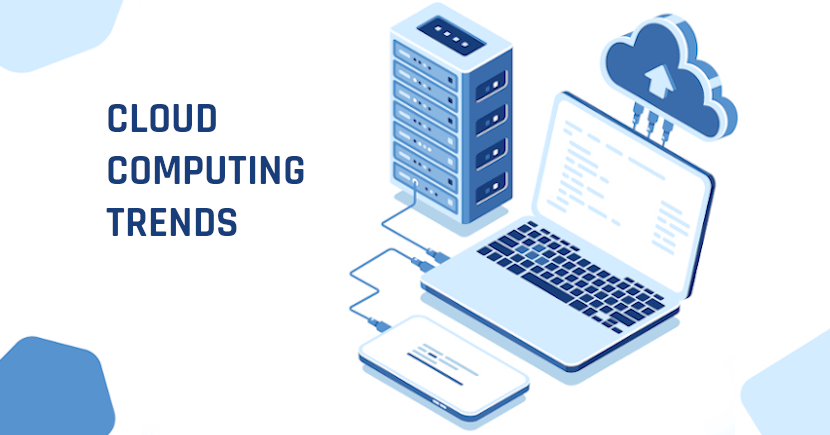 The cloud is more than an efficient storage solution and more companies move to cloud-based services. It's important to understand the emerging trends in Cloud computing to watch upcoming years. In this article, we have discussed top 8 trends in cloud computing to watch current year and beyond.
Cloud computing, according to IT experts, would be at the cutting edge of every technology in the future years to address major business concerns. With major company cloud spending growing at a 16% compound annual growth rate between the years 2016 and 2026, almost everyone agrees that the cloud is no longer viewed solely as a tool by businesses. Their current focus is on leveraging cloud security in meeting various business goals.
As per the report, roughly 83% of company responsibilities will be kept in the cloud by 2021, as a growing number of enterprises migrate from a private cloud to a public cloud. By 2022, revenue from the public cloud sector is predicted to increase to USD 331 billion, up from USD 175 billion in 2018.
Trends in Cloud Computing
Some of the most prominent cloud computing forecasts and trends to watch upcoming year as follows:
1. Cloud Computing using Hybrid Infrastructure
Cloud computing with a hybrid model refers to the use of both a private cloud and a public cloud managed by a third party. It is primarily used to let workloads move between public and private clouds, allowing clients to be more flexible with their registration requirements.
Cloud computing with a hybrid model is expected to grow to USD 97.64 billion in market size by 2023, thanks to its numerous benefits. Certainly, tech giants such as Amazon and Microsoft are investing heavily in product innovation.
2. Recovery
These days Cyber attacks, data blackouts, and system failures are all part of business maintenance. Most businesses have experienced server breakdowns, resulting in documents with critical information loss. Disaster recovery and reinforcement have been popular use cases of a cloud to ensure that such difficulties do not impact the organization and its activities.
3. Design Without a Server
A serverless architecture eliminates all of the drawbacks that a traditional IT infrastructure would normally offer. Clients are not required to lease or purchase the servers on which they store their data. If all other factors are equal, a third party would manage everything for you, leaving your company to concentrate on other tasks. There are numerous advantages to a serverless design, including lower liability, without system administration, basic management of operations, and so on.
4. Platform for Artificial Intelligence
Artificial intelligence is one of the most popular patterns of distributed computing to watch as innovation continues. The tech industry's big names are looking into including AI to cope with massive amounts of data in order to improve their business processes. Stages of processing are increasing their output by employing artificial intelligence. It now gives businesses the ability to deal with and computerize their processes intelligently. Additionally, the structure enables them to efficiently scale and adapt to the upgrading needs of the organization.
5. Cloud Security
Security, especially for traditional IT foundations, is a serious concern due to data theft, spillage, and removal. This year, cloud security isn't only the cloud computing trend; it's a requirement that each organization is addressing. Upcomming year, the client will be responsible for nearly 95% of breakdowns in cloud security.
6. Platform for the IoT
The most well-known cloud computing development in today's largely connected world is the rise of the internet of things platforms. According to a study, by 2021, the number of things associated with it would increase to 25 billion, rising up from 2019 that is 14.2 billion. An Internet of Things is a platform based on the cloud that will be working with conventional devices to enable cloud-based apps and administrators. IoT functions as a middleman, collecting data from a variety of devices via a remote device setup and management of smart devices.
7. Edge Computing
This is a method for improving the network of distributed computing structure by executing data preparations at the organization's edge, near the source of the data. It continually works on cloud workers that will deal with data that isn't as time-sensitive or retain data for as long as feasible.
That means that, as a result of the continued integration of telco and IT, 2019 will usher in a new era of cutting-edge thinking, opening up a slew of new options for businesses to take advantage of new technology and processing power.
8. Open Source
Organizations can gain a number of benefits by using a platform for open innovation. They can grow their cloud infrastructure quickly, adding features is much easier than with a closed source platform, and there are lesser security issues.
The tech industry is transitioning to the shared workspace, and choosing an open-source administration of distributed computing is by every account the best course of action for new or scaling firms. This is why many experts believe that open source will be the technology's ultimate fate.
Cloud Computing Future
Here are a few predictions for cloud computing:
1. Increase Capacity of Storage
Large amounts of data are being generated today, making it difficult to store securely. Major enterprises require a safe data storage site.
As cloud computing has so much curiosity, it is expected that additional data centers would be provided by cloud providers at reduced prices due to the extreme competition. More data would be stored in your firm with its help.
2. Enhancements to Internet Performance
The IoT can help to improve the quality of the internet. With the usage of Cloud Computing and IoT, we may save data in the cloud for later analysis and increased performance.
Users will seek high-quality applications and services that load quickly. The network offered will be fast, and data would be received and delivered more effectively.
3. Priority Will Be Given to Modular Software
The size of a single application, as well as its complexity, is steadily expanding. As a result, Cloud computing will soon necessitate advanced system thinking.
Since applications would be stored in places other than the clouds, later on, we can look at software development from a variety of perspectives. This application would be stored on several modules on various Cloud Service servers.
This can also help to lower software costs by allowing program components to be stored in separate locations.
4. Software that is Modular
Companies use a lot of software that hasn't been modified in a long time. As a result, cloud computing necessitates the use of customized software that provides enhanced security and provisions. This program would be easier to use and more flexible.
One of the most significant advantages of this application is that it will save both money and time. Companies that provide services and software are improving, as shown in the graph below.
5. Economic
When cloud computing develops continuously, the hardware usage will reduce because the major work would be done through virtualization and cloud computing. We can minimize the software setup cost by dividing it, which would result in lesser hardware usage.
If current trends continue, data stored in a cloud would be examined by a computer with no requirement for human intervention.
Conclusion
We hope this article is very useful and provided the necessary insights for the readers. We have also discussed the future forecasts along with these current trends in cloud computing. Online cloud computing course will help you master the skills of cloud computing that enable you to learn analytics, marketing automation, sales operations, application development, and SaaS services.
Future can't be predicted by anyone, but we could make educated forecasts depending on present usage and trends. I recommended that you obtain this credential as a ServiceNow Certified Implementation Specialist (CIS) certification in order to advance your career with ServiceNow training available online.
If you have found this article helpful. Let us know your questions or feedback if any through the comment section in below. You can subscribe our newsletter and get notified when we publish new articles for free. Moreover, you can explore here other interested articles.
Icon made by Designed by fullvector / Freepik
If you like our article, please consider buying a coffee for us.
Thanks for your support!



Buy me a coffee!
---
---