What is CRM? A Beginner's Guide to CRM

You know that your organizations or email marketing companies and its staff members create huge amounts of data every day. Every time someone picks up the phone and has a conversation with a customer, goes out to meet new sales clients and prospects, or follows up a profitable and potential lead, they learn something new and potentially valuable.
But the question is where does these details and information go? Whether it goes to the notepads or documents on computer systems/laptops or it is just stored in their mind. If this is the case, then details can get lost or forgotten, meetings and phone communications may not be followed up, and choosing what to target on can be a matter of supposition rather than a meticulous activity based on fact.
However, there is a solution to this problem. The solution is CRM or we can say Customer Relationship Management. CRM extracts your customer details and convert it into valuable, actionable perception that can transform your businesses or email marketing companies at a macro level.
A CRM software assists you keep your customer's contact information updated, track every connection and links they have with your business, and manage their accounts. It is designed to help you enhance your customer relationships which will return customer lifetime value.
Inbound marketing strategy also primarily depends on how good you use your CRM strategy. The collaboration of website marketing strategy and CRM strategy can assist you in many aspects including maximizing your sales agent, producing more and more leads, etc.
Here is the step-by-step guide to a successful CRM system where you are also going to explore various concepts related to CRM and CRM strategy.
What is CRM and what does a CRM system do?

Basically, a CRM system enables you to manage and establish the business relationships you have with your customers to help you expand your business.
Actually, CRM goes far beyond audiences, enabling you to target your company's relationships with all kinds of people including fellow associates, suppliers and HubSpot development service users as well as clients and customers.
How does the CRM manage to do this? At the most simple and base level, a CRM system offers a primary place where you can store clients and prospect contact details , and share it with your fellow teammates.
As soon as this is in place you can track the record of all your interactions you have with those clients and customers including all the phone calls made, emails sent, meetings held, presentations delivered, doubts and issues received.
With a CRM system going as per your demands and expectations, every question, every service request, every choice and every previous contact information about every subscriber and client is at your extremity. And this all means that each and every communication you have with your customers is always personal, related and updated.
By grasping knowledge and dealing with clients and audiences in a better way, cross-selling and up-selling possibilities become clearer too, giving organizations and email marketing companies a much better chance to win new business from prevailing customers.
And now, with tracking contact histories, you can also add notes, schedule follow-ups and manage and establish the new strategies that you or your fellow mates need to take. This means that you need never miss an opportunity to close specific deals or expand clients or subscribers accounts.
With a CRM, you can track:
Lead generation
Organization size
Multiple contacts within an organization
Contact title
Notes history
Current sales pipeline stage
Detailed reporting
File and content sharing
Dashboard based analytics and observations
How does a CRM platform work?

As an organization produces potential and segmented leads, a CRM strategy tracks all the actions of a valuable prospect and client through social media, email, and website channels. With this, you can absorb as much data and details as possible on leads before guiding them or helping you guide them via an established and well-prepared journey that targets all the necessary spots.
Let us take an example that a local resident is looking for someone to renovate their house. They contact a readapt and a renovation business or organization, which will question you on the reasons for the renovation work, the planned budget, and the location of the work. All of these data and details goes into the organization's CRM.
If the potential customer specifies a particular reason or timeline for the renovation task, the business sees the full opportunity and possibility for a sale. This may activate a series of events, from an automatic email sender with a video displaying and explaining the organization's work to a follow-up call arranged and organized 2 days later. If the CRM shows that the person visited your organization's website again, another series of sales steps may get activated.
Contrarily, if this lead provides details that suggest they are now looking for renovation material at local stores to do the work themselves, this lead might fall out of the channel. Now, in this case, the CRM software will detract the lead and administer the sales team's time toward more likely clients and customers.
What are the benefits of using a CRM system for your business?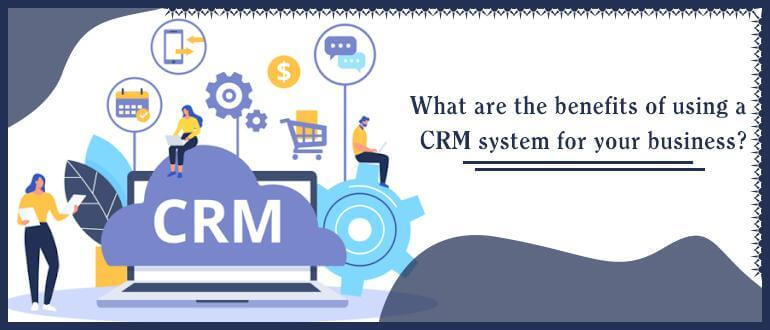 The benefits of a CRM system are available to salespeople, marketing teams, customer support specialists, and anyone who comes in contact with customers at large companies as well as small businesses.
1. KEEPING A TRACK OF THE TASKS
A CRM is a useful and valuable software that collaborates with an organization's typical rate of progress and saves time spent on everyday tasks. With an automation tool, you can give a boost to customer involvement and offer stability. Actually, the point is that regularity and stability is one of the unacknowledged advantages of a CRM system: When the audiences and clients get assorted messages, they rapidly grow demented rather then enthused.
2. ANALYZING AND OBSERVING SALES PROCESS ACROSS YOUR COMPANY
In addition to administering and establishing your customer base, a good and profitable CRM is also vigorous enough to track sales progress for your whole wordpress development services. If you are a one-person shop, you get the assistance you need to track leads and follow up. If you have a bigger sales crew, each new set of leads is allotted to a sales representative and their work and progress is tracked from that point onwards. As the progress goes on, the CRM platform offers a starting point to act on sales trends and close gaps. It is also a simple and direct way to track the performance of your sales team itself.
3. ENHANCES CUSTOMER SERVICE
CRM directs all your contacts and accumulates lead and customer details and data to build profiles of everyone you interact with. This gives you a simple and easy approach to crucial details on customer attitude like purchase history and previous conversations with contacts across different channels (social media, chat, email, etc.). Clients and audiences won't have to dictate their story over and over to you, and you will be able to resolve issues with best practice and less effort for enhanced customer fealty.
4. HIGHER EFFICIENCY
If you want to have all your primary everyday business functions in one place makes for better workflow, easier participation among team members, and better project handling, CRM is the best tool compatible. Task automation removes unskilled, tedious work and gives more time for the coherent tasks humans are perfect at. Dashboards and analytics will assist you gain in-depth understanding and knowledge into your work and customize and personalize all kinds of business procedures.
5. MORE CLARITY AND IN-DEPTH UNDERSTANDING
CRM enables you to promote greater clarity in your company by allotting tasks, showing work, and describing accurately who is who and who is doing what. If your primary focus is sales, you can make use of performance tracking for individual sales agents. CRM also enables everyone in your company to acquire perceptibility on your business procedures, promoting more interactive understanding and combination.
Conclusion
Customer relationship management software tools give you in-depth knowledge and understanding, boosts up customer satisfaction, and assists you sell more. You will provide them with a personal approach and attention as you reach out to every lead and client, and that is the fastest path to happier and potential customers. Now that you know you need a CRM system, it is the right time to find a CRM system that will work great for your needs, demands, and expectations.
We hope you have found this article helpful. Let us know your questions or feedback if any through the comment section in below. You can subscribe our newsletter and get notified when we publish new articles. Moreover, you can explore here other interested articles.
Icon made by Designed by pch.vector
If you like our article, please consider buying a coffee for us.
Thanks for your support!



Buy me a coffee!
---
---