Top 5 Best Google Analytics Plugins for WordPress (Expert Pick)

Are you looking for the best WordPress Google analytics plugin for your website? Here is an expert pick of the top 5 best Google Analytics plugins for WordPress Website. Every WordPress website can benefit from Google Analytics plugins.
Google Analytics plugins help you to integrate the Google Analytics account with your WordPress website without any configuration and display your website Analytics within your WordPress dashboard. You can easily analyze your website traffic and update your marketing strategies.
In this article, we are going to see the best WordPress plugin for google analytics. Which is helps you to integrate your website with Google Analytics and display results in your WP dashboard.
Top 5 Best Google Analytics Plugins for WordPress (Expert Choice)
Asking yourself which WordPress Google Analytics plugin is best for your Website to track and Analyze the traffic and boost your marketing strategies.
Check our list of best Google Analytics Plugins including their features and choose one of them for your website to track the traffic.
Analytify WordPress Google Analytics Plugin
GA Google Analytics
Google Site Kit
MonsterInsights
Independent Analytics
1. Analytify WordPress Google Analytics Plugin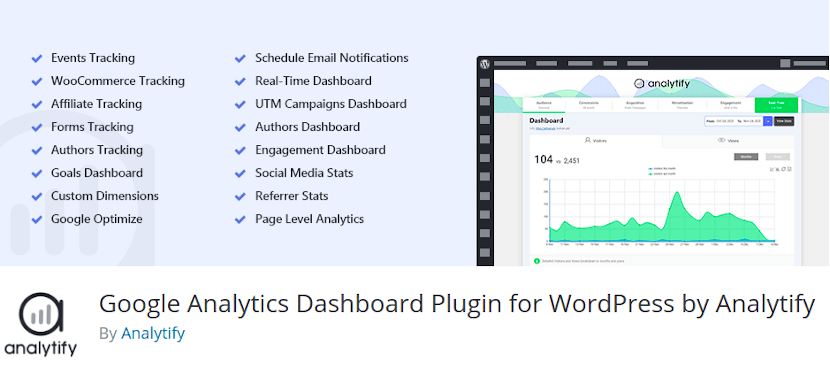 Analytify is one of the most popular Google Analytics plugin for WordPress websites with a user-friendly Analytics dashboard, where you can see general statistics, page views, demographics, system stats, top referrers, and other analytics. With Analytify you can easily integrate your Google Analytics account with your WordPress website without inserting tracking code into your website and start tracking your Website analytics.
Analytify Plugin has all kind of Google Analytics reports that you can see in your WordPress dashboard plus you can also view different analytics of your eCommerce store in the Analytify WordPress dashboard that include
Transactions
Total Revenue
Average order value
Total Product checkouts
Unique purchases
Product clicks
Product detail view
You can easily email your website analytics reports to your partners or if you are an agency then you can email analytics reports to your clients about their website traffic. Analytify also offers shortcodes that you can use for custom reports of your pages/post or the whole website analytics plus you can also track UTM campaigns in Analytify and optimize your campaigns.
Analytify premium version price starts from $39/years for one website and with the paid version you will get the following features with this plugin.
Campaigns Tracking
Email your stat reports
Google Optimize Integration
Dimensions tracking
Events Tracking
Affiliate Links tracking
Forms tracking
WooCommerce tracking
EDD tracking
Authors tracking
Search Terms tracking
Goals tracking
Demographics tracking
Real-time traffic
Analytify add-ons purchased separately. Analytify also offers an all-in-one bundle version, $129 per year for one website that includes all features and add-ons.
2. GA Google Analytics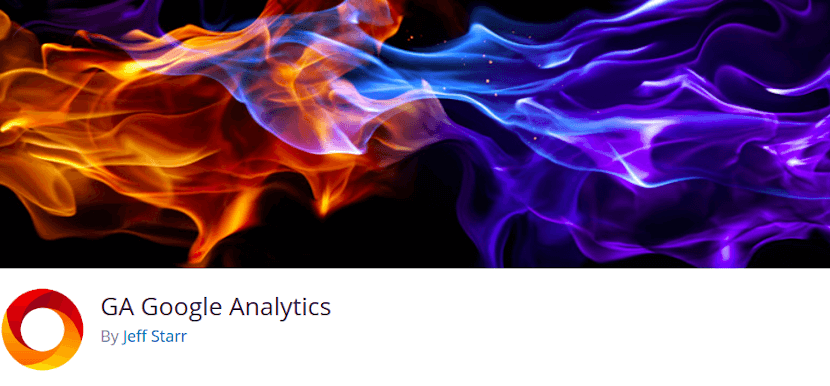 GA Google Analytics WordPress plugin simply integrate your Google Analytics account with your WordPress website. GA Google Analytics helps you to add support for IP Address anonymize, Force traffic over SSL and Enhanced link attribution. You can also add custom code to your website with GA Google Analytics.
The pro version of the GA Google Analytics plugin price starts from $15 for one website. In the pro version, you will get the following features.
Disable tracking for Logged-in users
Disable tracking for search results and archive posts
3. Site Kit by Google – Analytics, Search Console, AdSense, Speed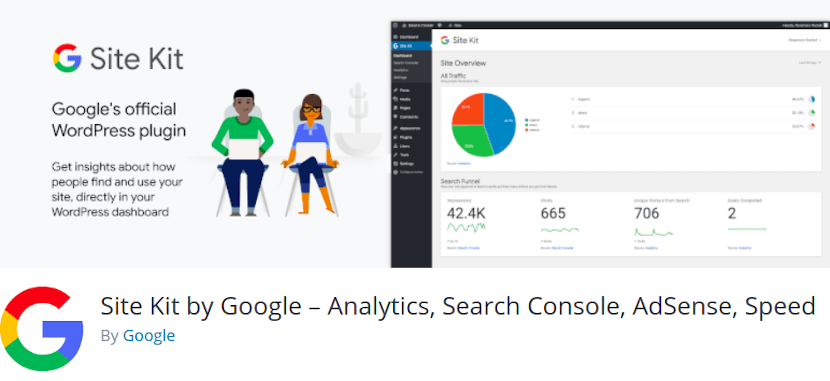 Google Site Kit WordPress plugin is developed by Google. This plugin allows you to connect your WordPress website with Google Analytics, Search Console, Google Adsense, Google Page Speed Insights, Tag manager, and Google Optimize.
After giving access to the Google Site Kit Plugin of your WordPress website, you will see a new window where you will get analytics results of your website and other Google Platforms. Google site kit is a completely free WordPress plugin and a simple solution that adds Google Analytics tracking to your website and Display your website Analytics within your WordPress dashboard.
4. MonsterInsights – Google Analytics Dashboard Plugin for WordPress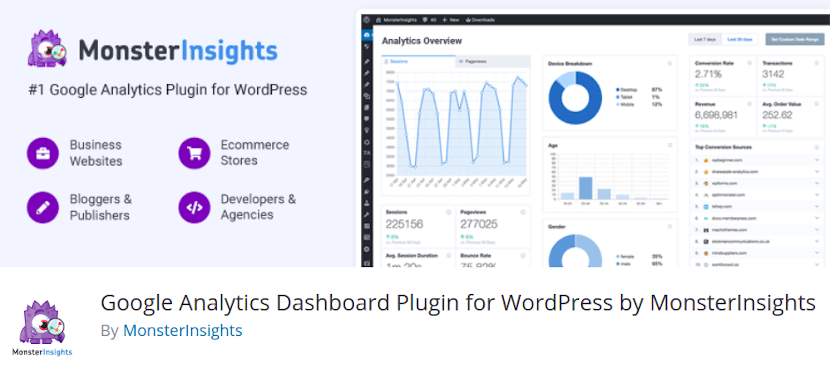 MonsterInsights is the most popular Google Analytics plugin for WordPress. Morethen 3 million active installs. It's easy to double your traffic and sales when you know exactly how people find and use your website. MonsterInsights shows you the stats that matter, so you can grow your business with confidence.
Unlike other Google Analytics plugins, MonsterInsights allow you to enable all advanced Google analytics tracking features with just a few clicks with no need to hire a developer.
MonsterInsights is to make analytics easy and accessible for everyone. You can create and customize Google Analytics reports to help you filter through the noise and see the stats that really matter for you.
Audience Report
Behavior Report
Content Report
Ecommerce Report
Forms Report
Search Console Report
Custom Dimensions Report
Site Speed Report
MonsterInsights is available for free. However, Premium version price starts from $99.50/year for a single website. Moreover if you have an e-commerce site, you will want to go with the pro version that is $199.50/year.
5. Independent Analytics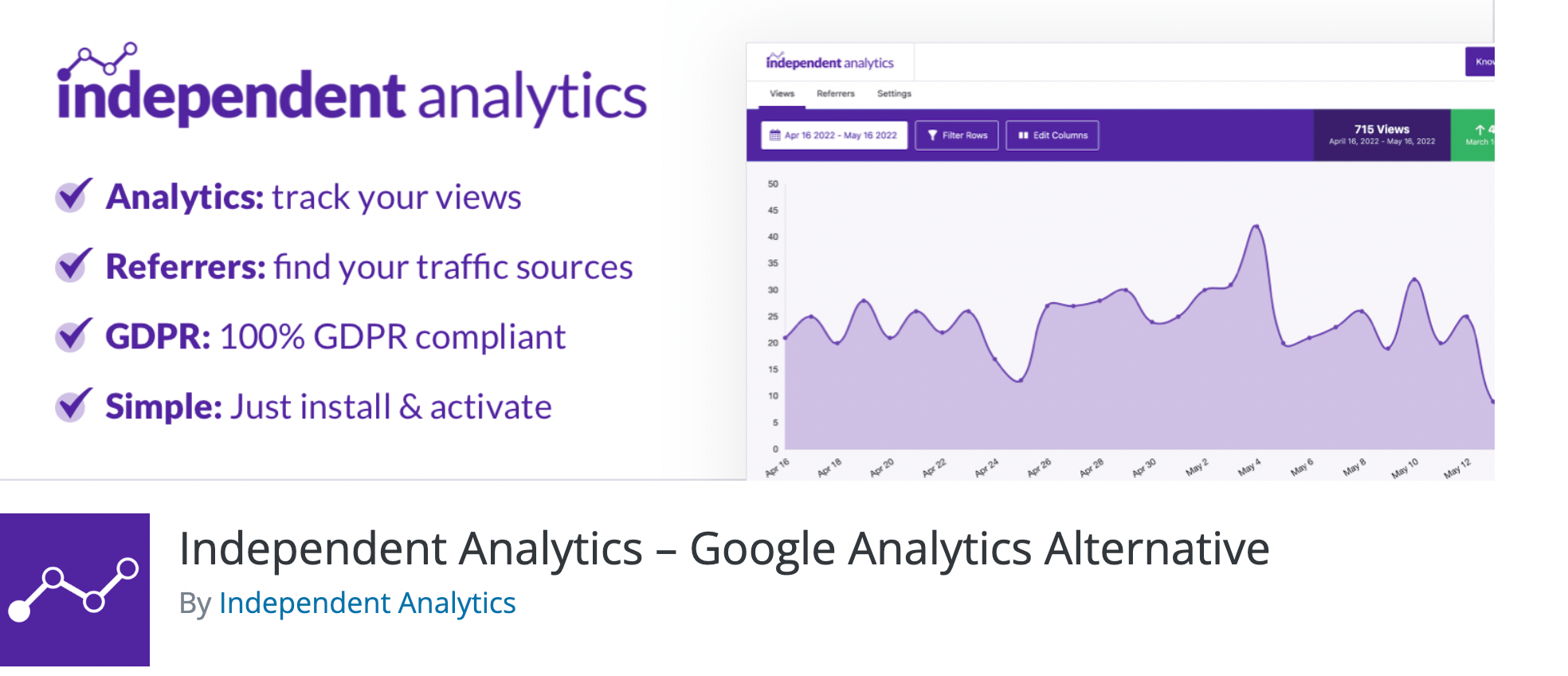 If you want to see how many visits your site is getting, you don't necessarily have to use Google Analytics. For WordPress sites, an excellent alternative is the Independent Analytics plugin.
Independent Analytics is a new plugin that adds view and referrer tracking to your site without any technical setup required. It adds a tracking code for you and you don't need to create an account with Google or anywhere else.
It's also GDPR friendly since it doesn't use cookies to count page views, and runs lightning-fast on your site. Some of the top features include:
Beautiful charts and data tables
Data filtering and sorting
Find your top site search terms
Compare views between page types
Find out where your traffic is coming from
100% GDPR compliant
Independent Analytics is totally free to use and can be downloaded from their site or installed via your Plugins > Add New menu by searching for it by name.
Which Google Analytics WordPress Plugin is best for your website tracking?
As you know all Google Analytics Plugins will help you to integrate your WordPress website with Google Analytics to track the website traffic within your WordPress dashboard without any editing in your website code. All of these WordPress Google Analytics plugins offer different Website tracking features that will help you to boost your website marketing strategy.
If you want to track your website complete general analytics and display the website analytics reports within your WordPress dashboard then you can use Google Site Kit Plugin for your website.
For All kinds of complete website analytics reports with customization options and different platform integration. You can go for the Analytify Google Analytics plugin for your website.
Analytify Plugin will help you to schedule your Custom Website Analytics reports according to your requirements and email them to your concerning persons and Integration with different platforms like Google Optimize, Different WordPress forms Plugins for Forms tracking, and Google AMP for AMP Pages tracking.
We hope you have found this article helpful. Let us know your questions or feedback if any through the comment section in below. You can subscribe our newsletter and get notified when we publish new articles for free. Moreover, you can explore here WordPress related articles.
If you like our article, please consider buying a coffee for us.
Thanks for your support!



Buy me a coffee!
---
---