How to Check Website SEO Rank Fast and Easily (Best Tools)

Best tools to check Website SEO Rank fast and easily. Do you wonder how to check your current website position in Google? It is as easy as ABC. You don't need any specific knowledge or skills to check your SEO ranking today. Thanks to the innovative technology, this process takes seconds. You need to use a rank tracker online to find out where your website is at the moment. Which Google position checker should you use to get accurate data about your site performance?
Most SEO experts recommend to use following best SEO tools for rank tracker. The good news is that you can check how it works for free. Fews are give trial for a week. After the trial period, you will be able to choose the best payment plan according to your personal business needs and get access to all features you need. However, some tools are free to use easily. Lets check one by one all SEO tools.
1. Ahrefs Webmaster Tools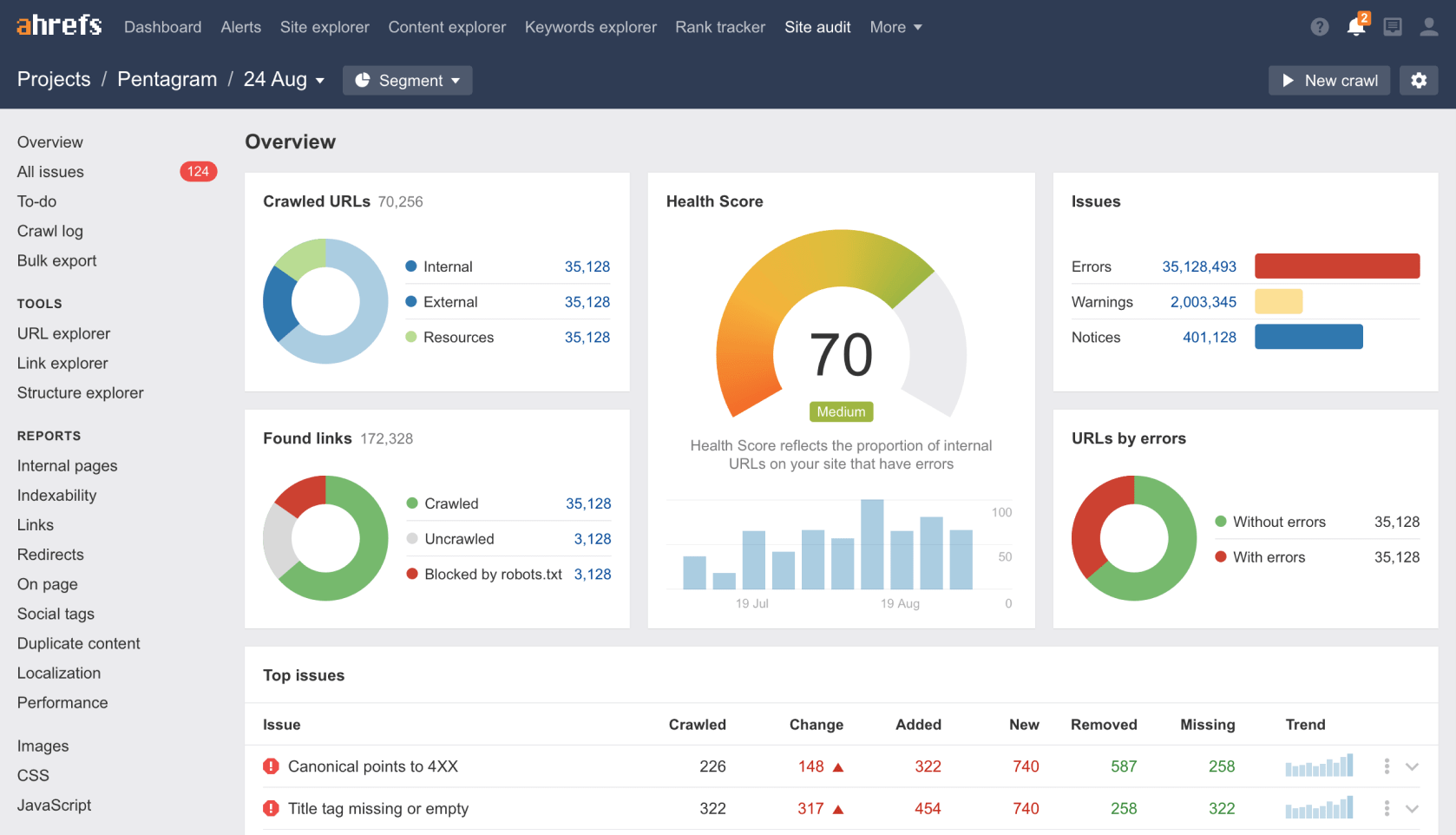 Ahrefs is a popular SEO software suite that contains tools for link building, keyword research, competitor analysis, rank tracking, and website audits. Most of the features inside of Ahrefs are designed for marketing professionals and optimize website ranking on search engines. In short: Ahrefs is a popular SEO tool that people use to get higher search engine rankings.
All-in-one SEO toolset:
Site Audit: Optimize your website
Site Explorer: Analyze your competitors
Keywords Explorer: Study what your customers are searching for
Content Explorer: Learn from your industry's top-performing content
Rank Tracker: Track your ranking progress
2. Small SEO Tools – Free Tools
Small SEO Tools is a bundled collection of 100% free PRO SEO Tools. Popular smallSEOtools like Plagiarism Checker, Article Rewriter, Backlink maker, Backlink checker, and 70+ more tools.
Keywords Tools
For webmasters and SEO professionals, free, powerful, and efficient keyword tools that provide you with thorough keyword research and analysis.
BackLink Tools
Many backlink analysis tools give you a better view of your backlinks profile. Some of the popular tools are backlink checker, backlink maker, website link count checker, and many more.
Website Management Tools
If you are struggling to get more traffic and enhance your website performance, then use these website management tools and in-depth web analysis. Some of the popular tools are website SEO score checker, google page rank checker, page speed test, and many more.
Website Tracking Tools
A list of free tools in one place to measure, monitor, and keep track of your website's performance. Some of the popular tools are link tracker, Alexa rank, reverse IP Lookup, Whois lookup, and many more.
Tools Text Content Tools
Some of the best text tools you will ever need for SEO. A complete set of text tools is now at your fingertips. Check plagiarism, rewrite an article, run a spell checker, count words or change text case.
3. SpySERP SEO Tools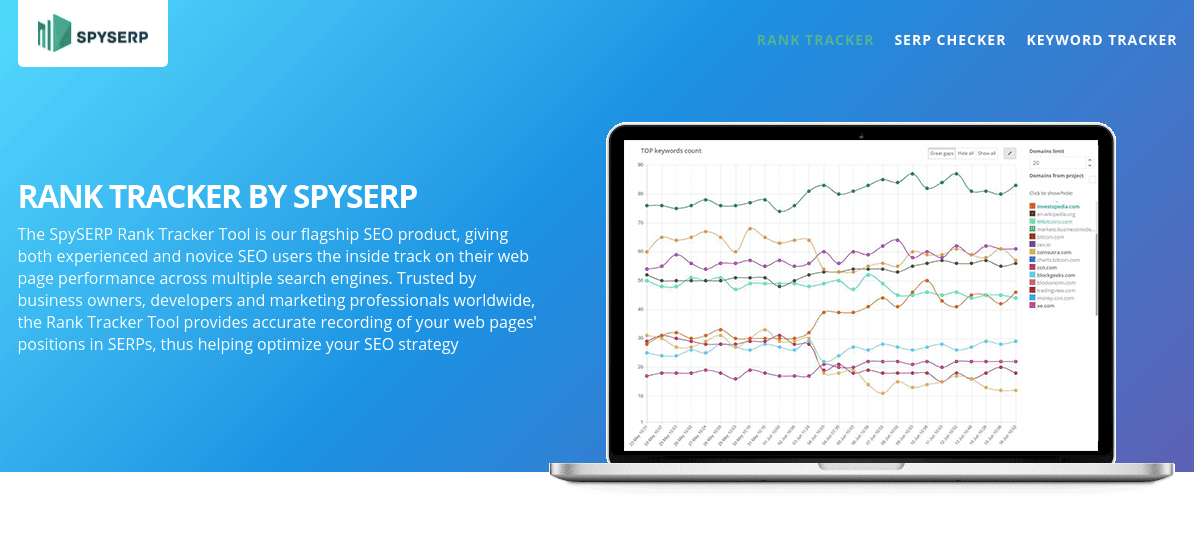 SpySERP is not only a user-friendly rank tracking tool. It stands out in the market thanks to its intuitive design and impressive functionality. Find out how exactly you can use the best rank tracker software.
Learn how your web page performs. SpySERP will make it clear how your site performs now and what improvements you need to make. Enter the necessary parameters (choose the search engine, language, local area, or any other region) and check where your web project is. You can perform check by specific keywords.
Optimize your content strategy using a keyword rank checker. SERP allows conducting careful research and analysis with the aim to identify the best-performing keywords. You can use a keyword clustering feature and a keyword grouper for maximum effective work with keywords. Organize them using tables and graphs.
Monitor your rivals with the help of a rank tracking tool. Find out what your competitors are. Check what new rivals appear in your business niche immediately and become more competitive using an effective rank checker online.
Share data about your site easily. SpySERP makes it possible to export reports in the most convenient format and share data for your colleagues to get access to all pieces of information.
As you can see, it is a good idea to use a website seo rank checker tool. It can save you much time and effort. Don't waste time on repetitive processes while you can focus on more important activities. Entrust SpySERP to provide you with full analytics and brainstorm ideas on how to develop an effective content strategy and increase traffic to your website. SpySERP will help you check the position in all popular search engines within minutes. Discover the effects of your current strategy and identify errors if there are any.
Real-time data makes it easier to evaluate the situation and have a clear understanding of what direction to choose to progress. If you want to see your website among the top-10 search results on Google, use an effective rank checker regularly and get reports about your site performance.
4. Google PageSpeed Insights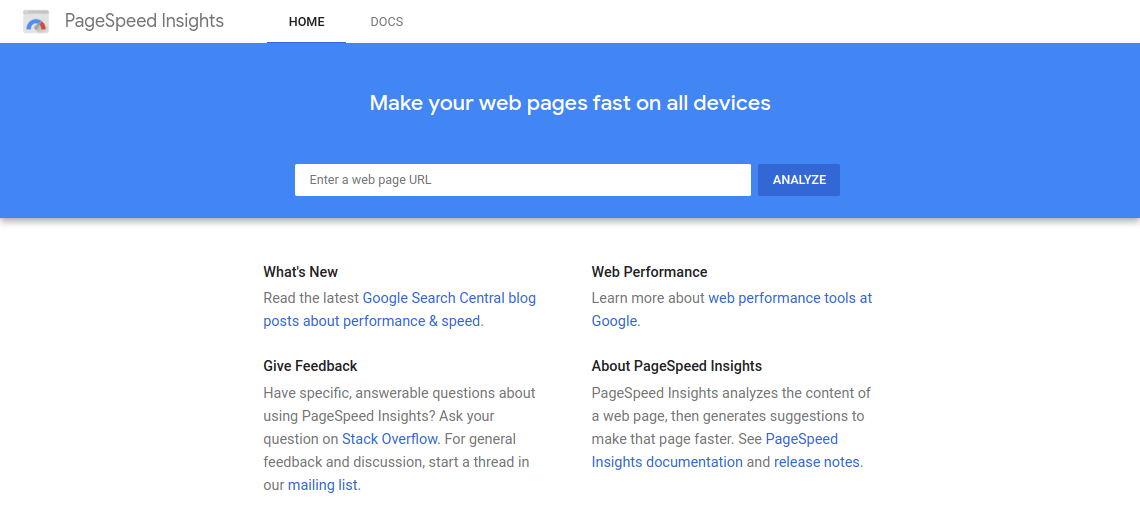 Google PageSpeed Insights is a great tool to check the speed and usability of your site on multiple devices. You have to enter a URL and this tool will test the page loading time and performance for the URL on desktop and mobile. Base on that it is grades to your site's performance on a score from 0 to 100. Moreover, it is also suggest how to optimize page speed.
5. Ubersuggest: Keyword Tracking Tool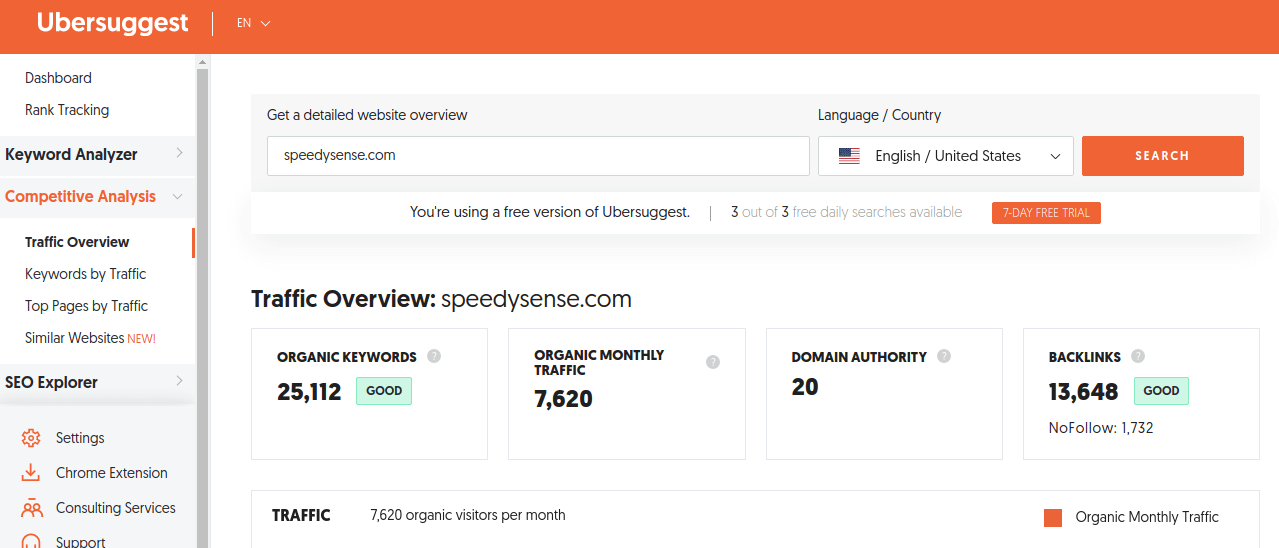 Ubersuggest developed by Neil Patel, is a free online tool which will help you generate keyword ideas to improve and expand your content marketing strategy. Whether you're writing blog posts or trying to emulate your competitor's success, UberSuggest has the tools to help you on your way.
Ubersuggest allows you to get insight into the strategies that are working for others in your market so you can adopt them, improve them, and gain an edge.
Ubersuggest toolset:
Domain Overview
Top SEO Pages
Keyword Suggestions
Content Ideas
Backlink data
you have found this article helpful. Let us know your questions or feedback if any through the comment section in below. You can subscribe our newsletter and get notified when we publish new articles for free. Moreover, you can explore here other interested articles.
If you like our article, please consider buying a coffee for us.
Thanks for your support!



Buy me a coffee!
---
---