How to Write Plagiarism Free Content – Top Content Writing Tips

Are you willing to unleash the hidden secrets behind any successful blog or website? Do you want to know how you can leverage your plagiarism free content to generate revenue? In this article we are going to see how to write plagiarism free content. Also we can share top content writing tips.
If you want to know the answer to any of the above questions, then this article is for you. Being a webmaster, you want your website to appear on the first result page when someone's searches in a search engine.
To materialize your success, we have tabled down a complete guide to remove plagiarism. Read the article below.
How SEO is important for your website's success?
Search engine optimization has some defined roles in maintaining consistent traffic and generating max ROIs.
Google, being the biggest search engine, indexes your websites in its databases and ranks according to the most relevant content.
To make your content rank-worthy, you do optimization. This helps your content to appear when searched on Google.
The whole bunch of techniques used to increase your website ranking is called SEO. Now, no matter how useful your content is, it will not gather the deserved readers if it isn't optimized.
Search engines are nothing but highly sophisticated programs. Even then they can make mistakes in judging your content.
So you have to apply various techniques to tell them that your content should rank.
To assure your content visibility on result pages, you have to add high-volume keywords.
Keywords are search terms or phrases that the users usually type in search engines. Incorporating these keywords into your content, you can target the audience looking for the solutions.
The next thing is your content. If your content explains the right solution to the problem, then it is of high quality. Your content should be relevant and unique as to appear on Google.
Besides, content quality, you need to get more backlinks from authoritative websites to hint to Google that your website is valuable.
These are some of the steps you should perform to make your content rankable for Google.
How plagiarism affects your website SEO?
Plagiarism is often considered an illness for your content's health. Thus, you must keep it at bay if you want to succeed in your online business.
Copying someone's content and claiming it as your own is nothing else than stealing. Though we do not have any legal offenses for such an act, it is prohibited.
Because plagiarized content affects SEO. It gives bad signals to Google that your content is of low quality and is not worthy to be shown in search results.
Thus, Google uses its AI-based algorithms to de-rank your website as soon as it notices duplicate content.
Hence, your competitor gets the benefit of your de-ranking and gets his website placed above yours. In this way, he will get more traffic than you and will lead the industry.
Moreover, your readers when get to know that you plagiarize content, shy away easily. Leaving trusted readers and customers can give a major setback for your website.
To add insult to injury, people leaving your website consistently can increase your website bounce rate, which is again a bad factor for SEO.
Thus plagiarism is a menace for your website, thus you must avoid it at any cost if you want a sustainable position in online business.
How to Get rid of Plagiarism from Your Content?
Writing plagiarism-free content is though not a piece of cake, but you can use several techniques to get rid of it easily.
Neither a successful content strategy is worthwhile nor a website is valuable without plagiarism-free content.
You can use the following techniques to get rid of that content and make it unique easily.
How to Write Your own Plagiarism Free Content?
In this endeavor, First, try to write unique content on your own. The content which is plagiarism-free ranks on SERPs easily.
Research your topic well. You can use Google scholar to read some cutting-edge researches to divulge new insights into the subject matter you are dealing with.
A knowledgeable person is confident in dealing with that particular area in which she has knowledge.
Since you see when you know something, you feel confident. By the same token, if you have researched well and have gotten the necessary insights, you can write on that topic without copying from others.
After writing your content, if you feel your content may contain plagiarism, you can check for plagiarism using a plagiarism checker.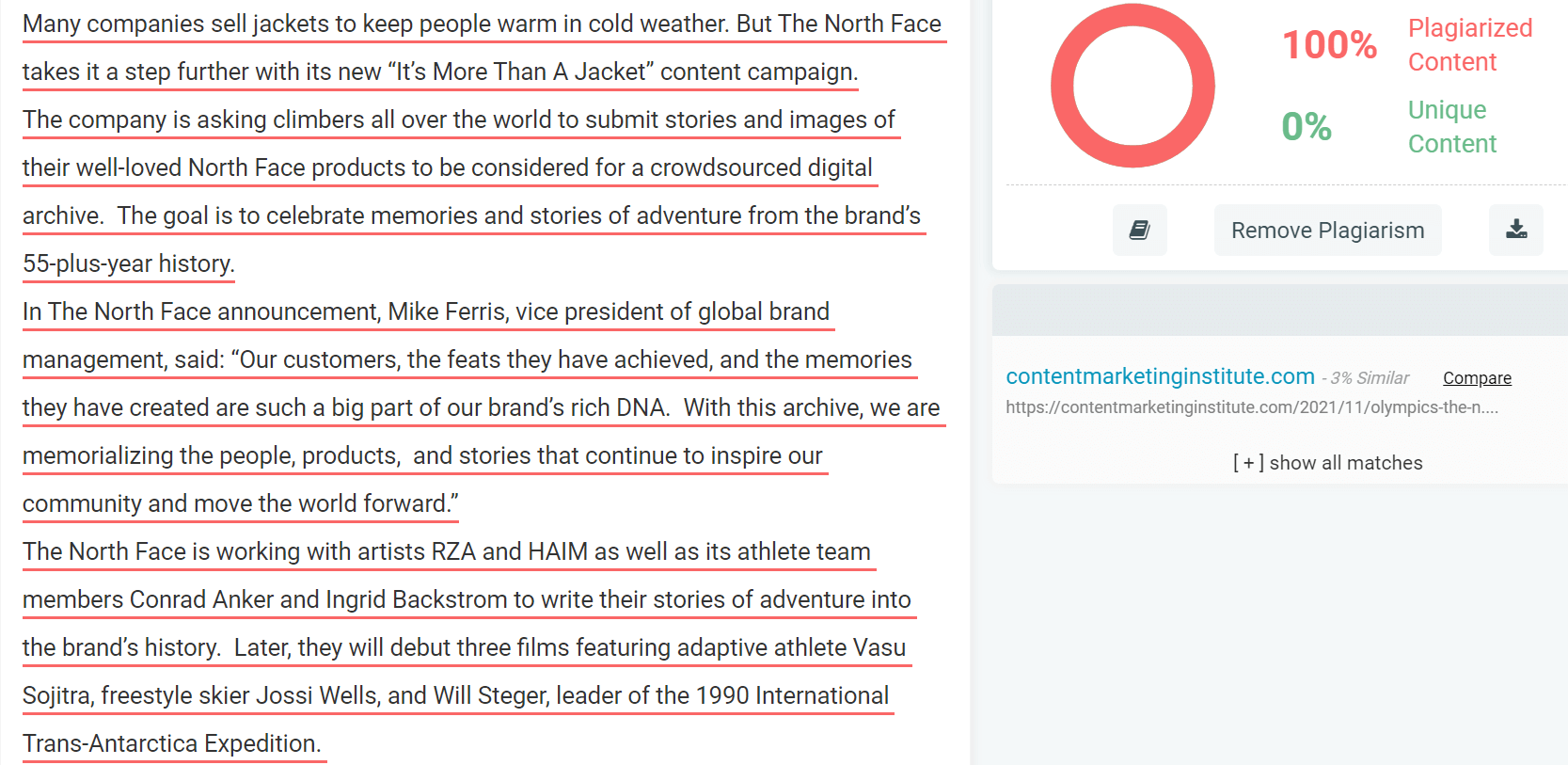 Rephrase Your Words
Likewise, you can get rid of plagiarism by paraphrasing. You can either paraphrase manually or use an automatic tool.
For manual paraphrasing, you need to have some skills in linguistics. Because having known different writing techniques to put down an idea in different words, you can easily reword your content.
However, if you want instant paraphrasing with the least amount of effort, you can use any rephrasing tool to get rid of it.
Cite Your Words
On the other hand, you can also create unique content by adding citations. Citing your content removes any charges of plagiarizing it. Thereby, it increases your content credibility because you have given proper references.
Claiming anything without backing it with real sources does not imprint a positive image in the reader's mind and creates a shallow argument.
But if you give proper references and cite it with credible sources may increase your SEO. Therefore, you should use different citation styles like APA, MLA, Chicago, and Harvard to remove the copied content.
Wrapping it up
Every content-creating strategy is doomed to fail if it does not account for plagiarism beforehand. Maintaining a threshold of plagiarism-free content is necessary for your website ranking. As you can't get rid of duplicate content unless you write unique content. Moreover, such content is not good for SEO, however, unique content contributes to the quality, which is a ranking factor.
Writing plagiarism-free content is not so easy especially when you have to create it on your own. But the best thing is that you should write your own content with enough research and practice. In addition, you rephrase your content either manually or with a tool to remove duplicate content.
At last, you must add citations to improve the credibility of your content and to remove plagiarism.
If you have found this article helpful. Let us know your questions or feedback if any through the comment section in below. You can subscribe our newsletter and get notified when we publish new articles for free. Moreover, you can explore here other interested articles.
Icon made by Designed by pikisuperstar / Freepik
If you like our article, please consider buying a coffee for us.
Thanks for your support!



Buy me a coffee!
---
---