Fix Broken Links in WordPress with Broken Link Checker

Sometimes you found a link on your WordPress website that link end up with "404 page not found". Thus, broken links lead to bad user experience and hurt your website SEO. However, broken links are a common problem on almost every website. Of Course, it does not mean that we ignore it. Gradually It can create pain. But don't worry, after reading this article, you'll know how easy it is to fix a broken links in your WordPress Website.
We used the Broken Link Checker plugin for checking broken links. When any broken links detect in your WordPress Website, then it will look like that link with a strikethrough (e.g. demo) and has a broken_link class. First time when it sees, it is not entirely clear that where is coming from. But these class added by Broken Link Checker plugin. Let's start how to check for broken links and fix them quickly in WordPress.
How to Find Broken Links in WordPress?
First of all, you have to install and activate the Broken Link Checker plugin. It is entirely free and monitors all links in your WordPress site. Probably, it is the best broken link checker plugin in WordPress. This plugin is run cron every configured hour to check the broken link. And if any broken links found, it will notify you through email and Admin Dashboard.
After activating it, the plugin will automatically start looking broken links on your website. However, it will take time depending upon how much content on your website.
Meanwhile, navigate to settings → Link Checker. Here you can see the progress of the broken links. One process completed, you will see the number of broken links found along with a link.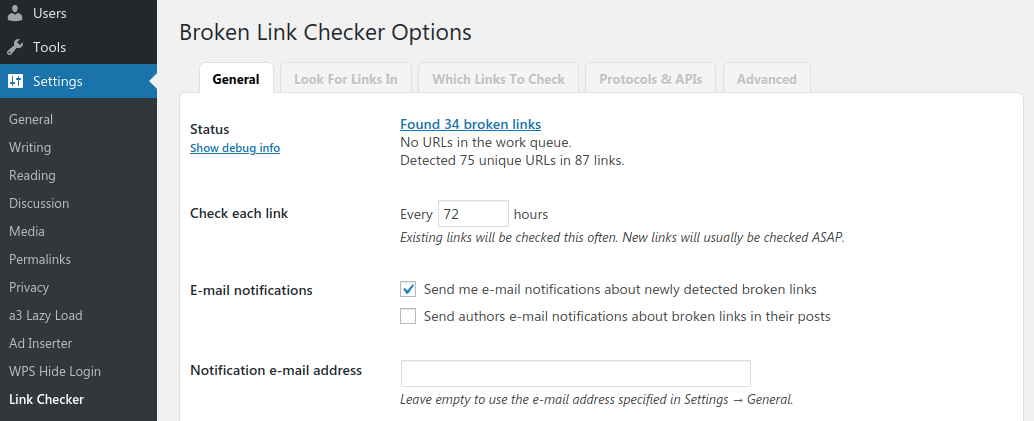 Simply click on the link, you will see the list of all the broken links.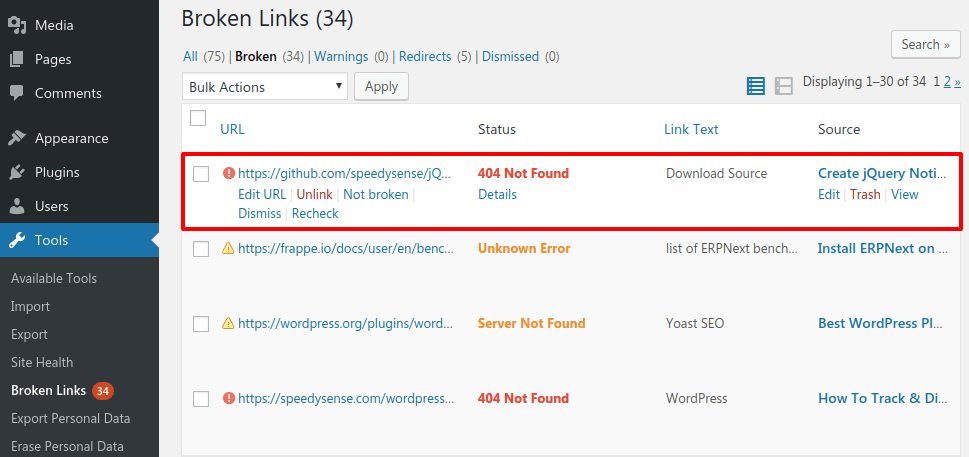 Here you can perform following options.
Edit URL – You can update the correct new URL.
Recheck – Recheck the URL status.
Not broken – Mark the link is not broken.
Unlink – Remove the broken link but keep the anchor text.
Dismiss – Ignore the broken link.
However, you can also perform the bulk operation like mark as not broken, unlink, and more.
Once you fix a broken link on your WordPress website, go back to the General settings of this plugin. Here two parameters are essential to configure. First, this plugin checks each link every 72 hours (keep this same). Second, set the notification email address. If any are new broken link detected, you will get an email to notify about broken links. If you leave email address field empty, then it will use the email address specified in Settings → General.
We hope you have found this guide helped you to find and fix broken links on your WordPress. Let us know your questions or feedback if any through the comment section in below. You can subscribe to our newsletter and get notified when we publish new articles. Moreover, you can explore here other interesting articles.
If you like our article, please consider buying a coffee for us.
Thanks for your support!



Buy me a coffee!
---
---